Rumor has it that the récamier is named like the Birkin bag. This furnishing was supposedly influenced by a woman named,
Madame
Juliette Recamier.
It seemed she popularized the image of a languid beauty lounging on her favorite, namesake, style of sofa.
From this reading, she sounds like quite the character. She,
"
walked like a goddess on the clouds and her voice thrilled the senses'
. She dressed in a cloud of diaphanous white mousseline, never wore diamonds only pearls, and appealed to romantic sensibility, wearing crowns of real pansies and cornflowers on her head and posies on her gown. Juliette was married at 15 to the wealthy banker Jacques Recamier...
"Juliette insisted on having flowers everywhere, even on the stairs, and would greet invited guests with a charming smile and invite them to see her famous bedroom. The bed itself was raised on a dais, and declared the most beautiful in Paris, against its background of mirrored walls, draped as it was in a froth of transparent gauze, a white vapor falling from the ceiling, surrounded by vases and candelabra, and an artificial rose tree."
Oh to be a muse. Rough gig.
Want to see the namesake in action? Now technically speaking, as I recall, a chaise is the genus and the récamier the species. Not to be confused with the duchesse brisée, or méridienne. And don't mistake it with a lit bateau, goodness; that's not for the living room... Confused yet? Quick recap, the duchesse brisée is a chaise broken into two with a footstool and a seat. The méridienne is asymmetrical with a higher side to rest your head and downward sloping place to put your feet. Ah, old school La-Z-Boy, yes! And lastly, the récamier looks just like the lit bateau with two sides that are generally even. But for eye-candy sake, let's just look at them all.
ref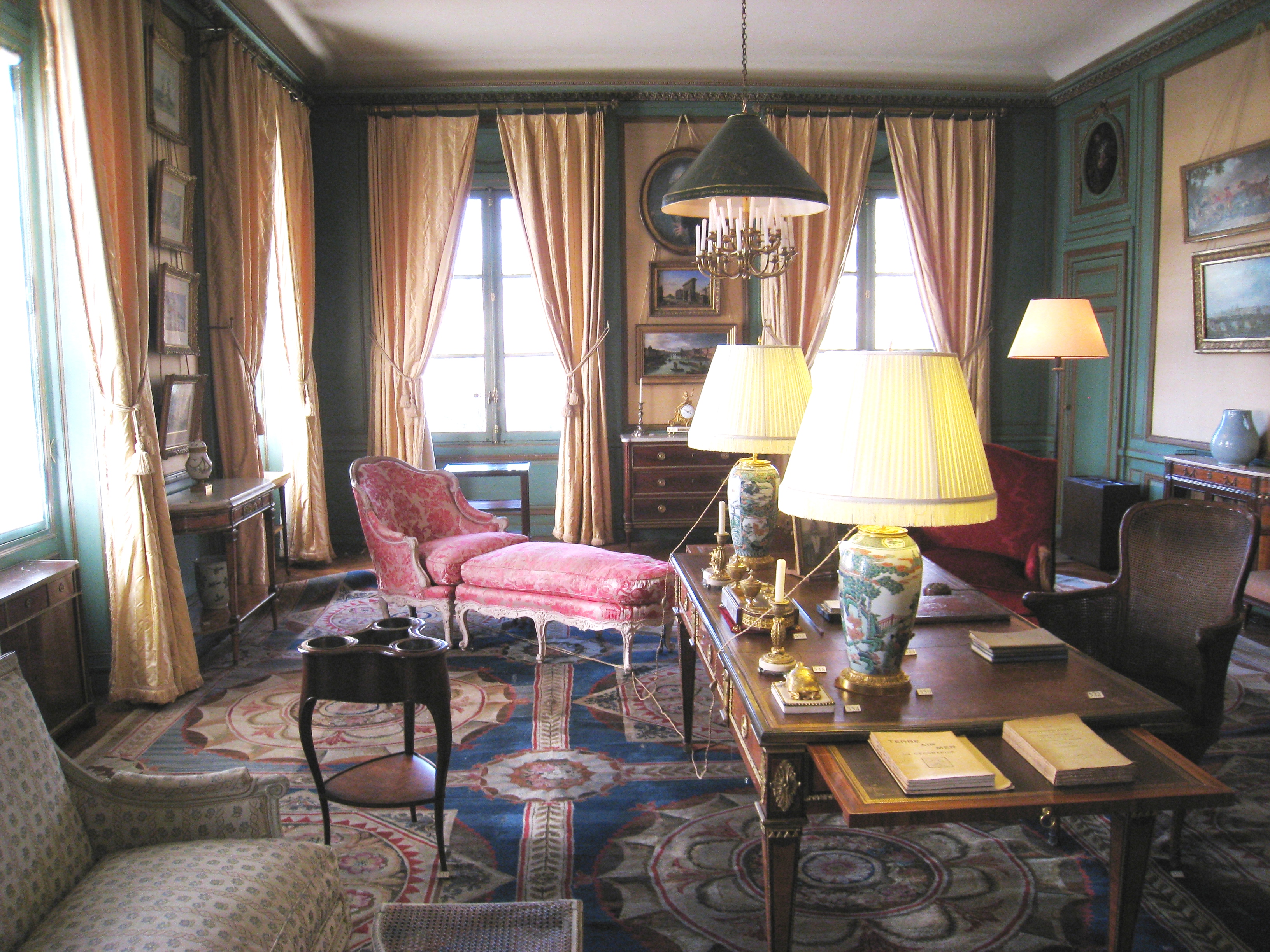 Image and excerpt from Culture Concept. Other images from Wikipedia, Chateau of Coppet: Mme Récamier's bedroom, Lessing Photo Archive, Candace Bushnell/Alex Papachristidis for Elle Decor,
Encyclopédies sur 'Academic'
, Architect Design at Vizcaya (btw loved this room in person too!), This is Glamorous