While "trelliswork" is an oft-discussed blog topic, I too had to take a stab at it. After all, the new year brings thoughts of the new spring, call me a planner. Be it refined arbors, galleries, summerhouses or interior applications, it is truly a good design element.
Treillage has been adapted beautifully to interiors, both conservatory rooms and regular living spaces. I lov
e the bi-color conservatory as in
Seaweed
(yes, that's the name of the estate) in Newport, Rhode Island. Or how do you feel about the conservatory mirror lining in the Elms in Newport?
Architectural treillage at Warren Towers, Newmarket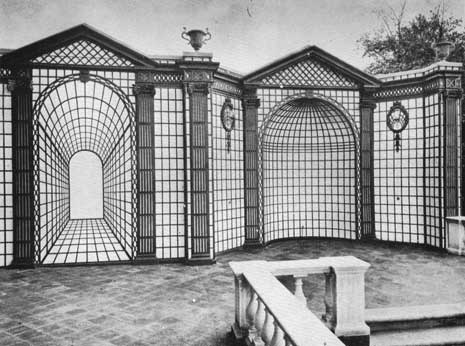 As found in obelisk form at the
Ile d'Amour in the Park, Chantilly.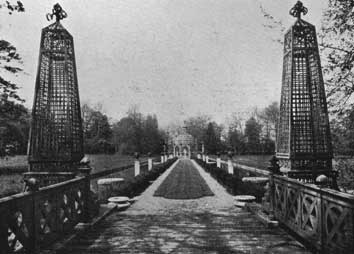 As depicted by
Architectural Notecards
in watercolor
Need more?
Photos from Willowbrook Park (who has a wonderfully informative write-up), les yeux français (who also did a wonderful writeup),
the work of Miles Redd via Mimi Bettancourt, Flickr, White House Gardens and Garden/Palm Room and Univeristy of Wisconsin
.