This is a story about learning to be a parent. It is also a story about furniture. Last week a friend introduced me to a local antiques dealer who happened to have a very large shop of beautiful pieces. He had several
Meiji era
tansu chests. In trying to pick a piece, I have learned so much about tansu chests. Since we are in Northern Japan, we are near Sendai. Sendai is a famous style of tansu. They're known for their heavy and intricate ironwork.
source
I picked out a merchant's chest in this style. You can buy your own
here
if you're in the States.
source
It was gorgeous, with original working locks, key and intricate metalwork. I'm told the blossoms are plum blossoms but in my mind they look a bit like lotus blooms. I had my husband and a friend transport it home; they were good sports because these things are not light.
source
As I was cleaning it that night I noticed the antique ironwork had many sharp points, especially on the drawer-front corner pieces. I decided it had to go; it wasn't baby safe at all. So, so beautiful, but not baby-friendly. I went back with another Japanese friend and we picked out a possible replacement. I'll post pictures when it is in place. And in case you are interested,
this is what a Sendai Tansu looks like in place in a traditional style home. Sorry I couldn't find a bigger image online.
source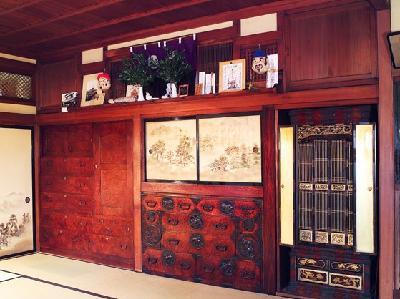 Lesson learned - this was my first furniture purchase since my daughter was born. I think the dealer thought I was a bit nuts when I went to pat down every single piece of furniture in his inventory... When I went back the dealer also asked, "what style does your husband like?" I told him the lightest since we have to walk up stairs to our apartment. Looking at another chest he told me, "No, your husband will not like this one. It is too heavy."
source
More on how Sendai Tansu Chests are made: